By Jake Marshall,
February 1, 2019
Posted in: NFL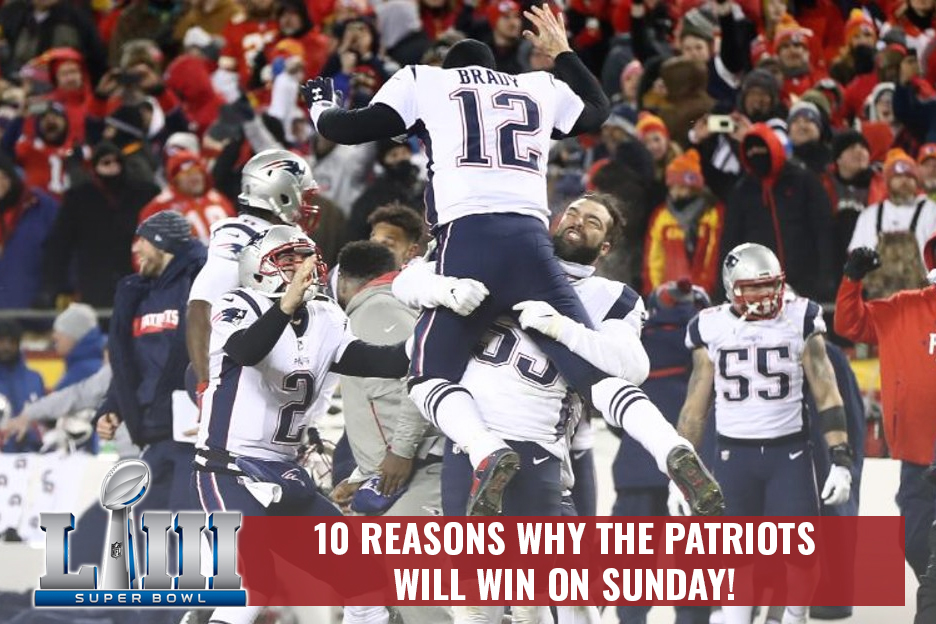 The New England Patriots are in a territory they know all too well. Playing in their ninth Super Bowl since the turn of the century, winning may never grow old. Kind of like Tom Brady.
And now things have come full circle for them, playing the Rams for the Super Bowl under the dome lights in another southeastern city. It will be 17 years to the day since Brady beat them in New Orleans for his first Super Bowl title.
Full disclosure: I "wouldn't mind" if the result were to be different this time around. The reality: New England is going to win another Super Bowl. Their record-tying sixth, to be exact.
It isn't just Brady's postseason prowess or the glare and preparedness of coach Bill Belichick. There are so many other strengths that have surfaced in this team on both sides of the ball. And if they play how they have in the first two games of the playoffs, they're the team that will raise the Lombardi Trophy.
Here are 10 reasons why they will indeed be that team on Sunday night. And don't forget to check out our Top NFL betting sites section to get in on the action.
1. The Belichick and Brady Effect
Brady can talk all he wants about being the underdog. But it's clear with him and Belichick, that they're going to be expected to win.
And there are obvious reasons for that. Like five Super Bowl titles and four Super Bowl MVP Awards for the quarterback.
Though experience isn't everything, it's clearly an advantage for them.
Belichick might be faced with the toughest and most unique task in his chess-match with the Rams' Sean McVay. But he's bested some of the finest coaches the league has seen in recent years.
Mike Martz and Pete Carrol were two title-winning coaches (Martz as an OC) already when he faced them. And Andy Reid might be one of the top-five head coaches to never—so far, anyway—win a Super Bowl.
As for Brady, he averages 322 yards passing in these games. He's thrown a combined nine touchdown passes in his last three Super Bowls and almost 1,000 yards between just the last two.
Nobody will undersell the coach (McVay) and QB (Jared Goff) on the other side. But when you have possibly the greatest coach and quarterback of all-time on your team, that's an obvious leg-up.
No matter how old they may be getting.
2. The Emergence of the Run Game
It's interesting to look at the running backs New England has had during their dynasty run.
Since 2001, they've only had five running backs go over 1,000 yards. Not that they've been ineffective in the ground game. After all, it's often been an RB-by-committee approach.
But just three of those running backs broke 1,000 yards and had over four yards a carry. Sony Michel came extremely close to joining that group this year, just 69 yards short, and with a 4.5 per-carry average.
Though Brady is apparently still vacationing to the Fountain of Youth ever year, he's not the same QB as he was in, say, 2008. He won't air it out downfield as much. He'll use running backs for check-downs at a higher rate.
And while the RBs have always been a big part of the pass game, it's never been more imperative for them to be solid at their primary purpose. And the rushing of the first-round pick Michel is exactly the spark New England has needed.
He has 242 rush yards in the two playoff games and 4.6 a carry. It's just another worry for a Rams team that finished 28th against the run this year.
3. A Clean Pocket for Brady
As I've spoken about before, the Patriots have faced some daunting pass-rushers in the playoffs.
The Chargers were only ranked 19th in sacks because their star DE Joey Bosa was out for over half the year. Once he came back, he had 5.5 sacks in only six starts. And he was across from a two-time Pro Bowler in Melvin Ingram.
Still, they never got a sack on Brady and barely touched him.
The same story was told with the Chiefs, who had the seventh-best sack rate in the NFL. Dee Ford (13 sacks), Chris Jones (15.5), and Justin Houston (nine in 12 games) are all beastly QB-hunters. But again, there were no sacks by the Patriots' opponent, and a combined two tackles.
That offensive line has always been the main component besides Belichick and Brady themselves. That was no different this year, as the pass protection was ranked best in the league.
Though Rams DT Aaron Donald is perhaps the most dominant player in football right now, teams have been able to go away from him as of late. And that leads me to my next point.
4. There's a Formula for Game-Planning Around Aaron Donald
His 20.5 sacks are eye-popping, to say the least. Aaron Donald has even been called "unblockable" by Belichick himself. But in the playoffs, he's been rather pedestrian.
He has four tackles and no sacks in the first two games. Though three of those tackles were behind the line of scrimmage, that's still far short of some of the Herculean efforts he put in earlier this year. He had three games with four or more tackles-for-loss along with seven multi-sack contests.
Everyone is game-planning away from him. New England offensive coordinator Josh McDaniels surely knows how and can utilize this from recent tape.
Double-teams may not be able to stop Donald all the time. But between the Patriots' masterful ways of misdirection and a great offensive line, they stand a better chance than anyone of shutting him down.
They'd much rather have to deal with Dante Fowler than a guy like Donald.
5. LA Will Have Issues with Gronk
The linebackers and safeties of the Rams are going to have their hands full on Sunday with Rob Gronkowski. The Patriots' TE just had his most active game all year against the Chiefs in terms of targets.
He's healthier than he's been in some time and is playing another team that's struggled against tight ends. Los Angeles has given up the second-most yards to TE's in 2018.
They've been able to cover up this flaw in the last two games. That's because they played a Dallas team that desperately needs an upgrade at TE and a New Orleans team without their starter, Ben Watson.
Now they must add another element of concern.
The Rams played four of the top-10 tight ends in terms of yards-per-game this year. In those five games, (they played George Kittle of San Francisco twice) they gave up a total of 36 catches for 576 yards and three touchdowns.
Those numbers would average out to 115 receptions for 1,843 yards in a 16-game schedule. That's absurd.
And Gronkowski is planted comfortably near the top, having had the 6th-most receiving yards per game out of tight ends. It's safe to say one of the better tight ends to ever play could have one of his best performances in-store on Sunday.
6. They're Built to Overcome Slow Starts
There's an interesting trend that 67% of the teams that score first in the Super Bowl end up winning it.
But the Patriots have won five of the eight Super Bowls they've been in (62.5%) without scoring a single first-quarter touchdown. A single one.
In fact, they only have three total points in the opening quarter of eight Super Bowls. Guess that rules that out of the "highest-scoring quarter" prop.
There's a reason New England never seems shaken though. The adjustments Belichick makes in-game can be compared to by next-to-no-one.
The Rams just got finished with a game in which they didn't score in the first quarter as well. But out of the 36 first-half quarters they've played all year, they've scored in a whopping 33 of them. It's going to hard to keep them off the board early.
But with this veteran-laden squad from New England, they have a great chance of winning whether they lead early or not. Just ask the Falcons about that one. The Patriots were also down to start the game the last time they played the Rams in a Super Bowl.
Things are very different now for LA, like the fact the Rams are actually from LA. But just like before, Brady and Belichick are still creating late-game nightmares for people.
7. Their Run-Stoppers Have Put them in a Great Spot
If this matchup would've happened earlier in the year, things might've been different for the Patriots in the trenches.
Five of their games ended with them giving up 130 or more rush yards. They were getting bowled over by the likes of Kerryon Johnson and far-past-his-prime Frank Gore. There wouldn't have been much of a chance against Todd Gurley with this d-line.
But that group suddenly tightened up as the playoffs drew near. They gave up a measly 176 on the ground between the last two regular season games.
And those numbers only improved in the playoffs. They completely shut down Melvin Gordon Jr. in the AFC Divisional Playoffs. Sure, he only had nine carries, but the Chargers put up a measly 19 total yards on the ground.
The Chiefs fell behind early too, and that took away carries from them. But even when Patrick Mahomes found his groove in the second half, there wasn't much offensive balance. Kansas City only ended up with 41 rush yards and a lackluster 3.4 a carry.
Gurley is way better than the backs New England has recently faced. But he's rarely been himself in the last two months. And while C.J. Anderson was a wrecking ball versus Dallas in the playoffs, his production went way down against the Saints.
I can see them breaking 100 rush yards against the Pats. But that's still a massive improvement from what the result would've been for New England in, say, October.
8. Julian Edelman is the Ultimate Playoff Playmaker
There's no doubt that Marcus Peters and Aqib Talib are one of the better corner duos. No. 1 receivers have had a rough time for much of the year against one or the other.
But Julian Edelman has proven to be a different kind of beast come playoff time.
In his last 12 playoff games, he's averaged 100 yards a game. That number is bumped to 118 over his last five.
And when it counts the most, in the Super Bowl itself, he's been as locked in as Brady has. The catch he made versus Atlanta on the game-tying drive of that game seemed like the moment that made him a postseason legend. But his consistency is just as impressive.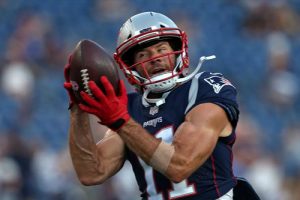 Edelman's been the guy in the passing game for six seasons. He's only failed to reach 80 yards in two of the last dozen playoff games. He even caught two TD passes in his first ever postseason event.
He's now 4th all-time in postseason receiving yards. Michael Irvin's second-best mark is only 44 yards away.
There may be no catching Jerry Rice at No. 1, but the Patriots don't need him to be the greatest receiver of all-time. If he merely keeps the average he's had the last six years, that'll be more than enough.
9. The Rams Defense Won't be Able to Get Off the Field
This is a bit more specific but no less important.
Killing off Patriots drives, before they start slowly churning down the field, is detrimental. The Rams thrive on ball control and turnovers. Unfortunately, Brady—aside from blunders in the AFC Championship—has some of the best ball security in the playoffs.
He rarely makes untimely mistakes, with just one interception for every 47 passes. For a team that will need a couple of turnovers to get themselves off the field, that's not good news for LA.
Consider that another Super Bowl legend, Joe Montana, had an INT every 35 throws in the postseason. Knowing how precise he was and his success rate in the postseason, that's a telling comparison for Brady.
Now, the argument most Rams backers would have is that LA ranked 8th in opponents' conversion rate on 3rd downs. So they may not get the frequent turnovers they're looking for, but they can make the 3rd down stops Kansas City couldn't.
But that stat is a bit of a front. The numbers are being boosted by bad quarterbacking.
Combining all the major passing statistics, the Rams played several games against lower-ranked passers. These include Nick Mullens (twice), Sam Bradford, Josh Rosen, Case Keenum, etc. In these games, offenses only converted 33 of 117 third downs, or 28.2%.
It's a fantastic number. That's until you look at the better QBs they faced.
Against any top-15 quarterback—Patrick Mahomes, Drew Brees, Russell Wilson, and so on—they gave up these conversions 48.4% of the time. You want to talk about Jekyll and Hyde, this is it. Except it's clear the times when they've struggled.
Against Brady, another top QB, they will do the same. And if they can't control the clock, their record is rather pedestrian. This is a team among the league leaders in time of possession. Yet all three of their losses came when they didn't have more time of control.
10. Sean McVay Finally Meets His Match
I know I've mentioned Belichick several times during this writing. But it's not just worth mentioning his laurels, but also the strength of the Rams he can cancel out.
Say what you will about Donald, Gurley, and any number of talents. But McVay is what has given LA the upper hand in several of their games. He's one of the best play-callers in recent memory.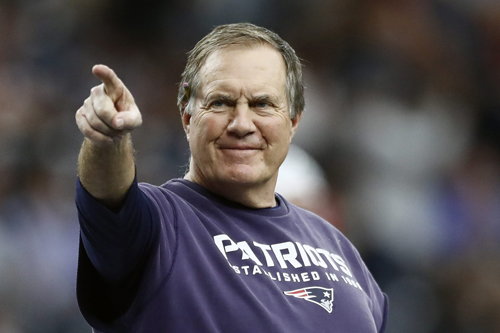 While Sean Payton of the Saints was considered a worthy adversary, he's another offensive guru. Belichick is a defensive guy. And though the Patriots might have "only" been the 10th-best scoring defense this year, Belichick will have the most unpredictable game-plan McVay has ever faced.
Just look at Philip Rivers and Patrick Mahomes, two of the league's best, playing Belichick this postseason.
Rivers had some production in garbage time. But he also completed less than half his passes despite New England giving up underneath routes the whole second half. His passer rating was 24 points under his season average.
Mahomes and the most explosive offense in the NFL had zero points at halftime. Though the Chiefs adjusted and nearly came back to win, he still finished with a completion percentage barely over 50%. He was also pressured more than he had been all year.
McVay will have his hands full trying to come up with a plan for Goff to succeed. I think he'll do just fine in this battle of the minds. But he holds no advantage here, like he did against almost every other coach in the league.
The Bet: New England Patriots (-138)